Deciding what is the best freestanding induction cooker for home use will all depend on your current need.
Today I will try to help identify the types of induction cooker that would best fit for you.
When we say Freestanding, one that comes to mind is PORTABILITY.
Portability means that it can be easily moved or transported as the need requires.
And if you don't know yet,
You need to first realize that there are many different types of induction cookers.
… ranging from single zone,
… to double zone,
… as well as multiple cooking zone induction cookers.
So join me as we try to find out the best freestanding induction cooker for home use.
Let's get started!
What is the Best Freestanding Induction Cooker for Home Use
The best freestanding induction cooker for home use is the SINGLE ZONE and the DOUBLE COOKING ZONE induction cooker. These types of induction cookers are more portable. Higher than two cooking zones won't be ideal as freestanding due to its size. One criterion in designing freestanding kitchen appliances is portability, and the same applies to induction cookers.
1) Single Induction Cooker
While it is true that there are built-in designs with just one cooking zone induction cooktop, a single zone induction cooker is the most popular among the freestanding types of induction hobs.
Because of its size…
A single induction cooker is so much portable and flexible enough that it could even end up on top of your table to enjoy your favorite hotpot.
It can also serve as a backup cooker in case your main cooktop fails.
As it only occupies a small space, it is very easy to find a storage place. You can just slide it into your cupboard, and take it out when you need or want to use it.
Single induction cookers come in different designs, such as below;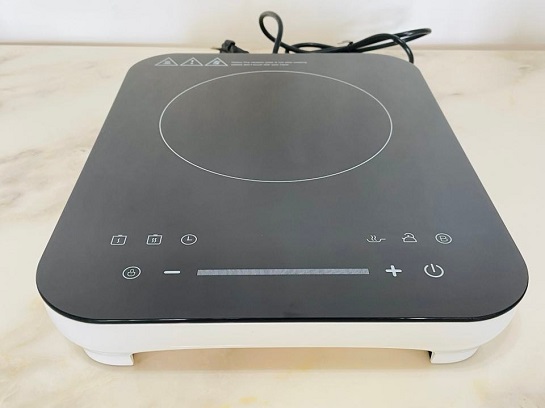 The above single induction cooker is touch control and has a slider to control power levels.
This kind of IH is the most popular design (while more expensive models may include a bigger LED display with more features).
Another type of single induction cooker is with knob control as illustrated by the below image;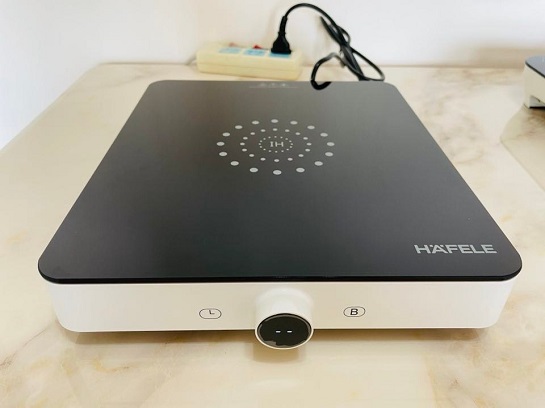 This kind of induction cooker is now gaining attention because of its vintage look. As you can see, it comes with a dial knob to control power levels and other settings, while some controls are touch operated.
2) Double Induction Cooker
Like single induction hobs (IH), double induction cookers do have models for built-in cooktop designs.
A double induction cooker is becoming a popular option for freestanding.
Although it will be more expensive (as expected) than the single induction hob.
Likewise, it will also require a bigger space in your kitchen.
But it is still considered portable at this size while giving you the option to cook two dishes simultaneously.
Below are the most common freestanding designs you'll find for double induction cookers;
The above picture is a double induction cooker with touch controls and a slider for adjusting power levels.
Another type is with knob controls as below;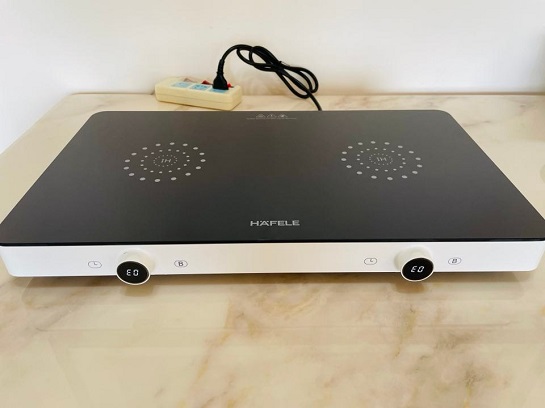 The above sample image is a slim double induction cooker with control knobs to adjust the power level and other settings while some controls are touch operated.
3) Induction Cooker with Grill Pan
A new design of induction cooker is emerging and gaining customers' approval because of its versatility.
It's the Induction Cooker with GRILL PAN.
The below sample image is for double induction (but there are designs with single induction hobs).
In my last job, we developed this model for our client in Thailand.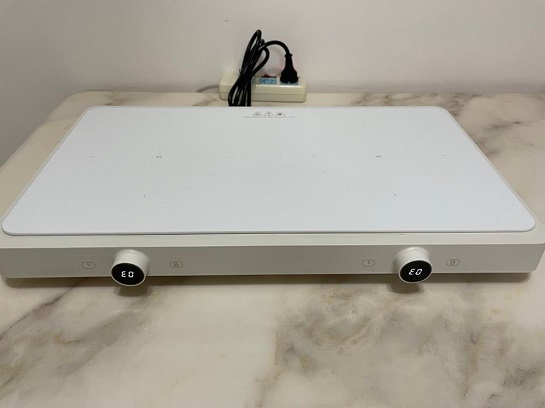 The above image is the base unit, and the only difference compared with the standard design is the top glass is not covering the whole frame and it is also higher than the frame.
This gives the ability for the grill pan to fit in. See below photo;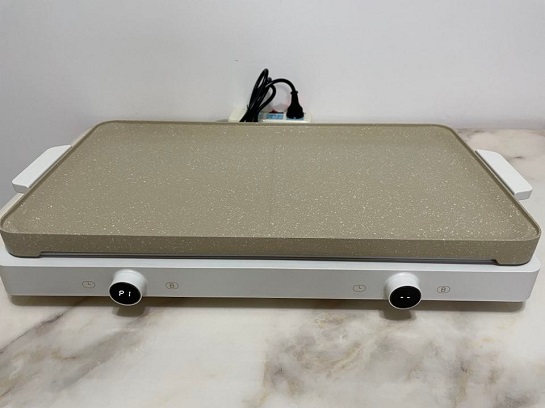 As you can see, when buying an induction cooker with a Grill… a grill pan must be supplied or come along with it.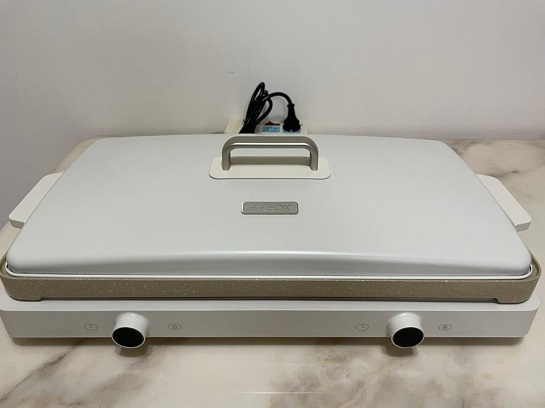 A grill pan cover also must be supplied (as seen in the above photo). The cover can help contain the heat to ensure grilled foods are cooked properly.
Another good use of the cover is to prevent oil from splattering when grilling fatty meats.
One obvious advantage of this design…
Is that you can also use another induction-ready pot or pan to perform your normal cooking.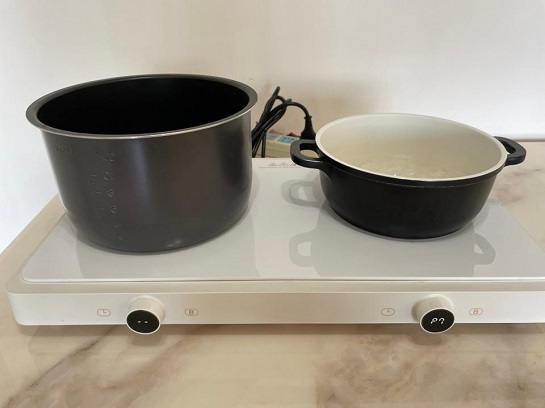 In the above sample image, I was doing a simulation test using two types of pot.
On the left side is a non-induction ready type of pot

which the induction cooker failed to detect and it just sends an error signal

While on the right side is an induction-ready pot

and the induction cooker was able to detect and started to induce heat until the water boils
Even though this type of induction cooker will be more expensive.
But the good thing is that it's more versatile than the standard type of freestanding induction hobs.
Related article ➡️ How Does Induction Cooker Works
Why Multi-cooking zone Induction Cooker is NOT IDEAL for Freestanding
Induction Cookers with three zones and above will be bigger, and that also means will be heavier.
And this type of induction hob is best suited for built-in.
Also, the cable (AC cord) will require bigger cross-sectional wires, and ideally, it does not come with the plug at the end of the cable.
That's why these types of induction cookers will need fixed installation for safety reasons… as they generate high wattage (power) especially if all cooking zones are used simultaneously.
Final Thoughts
Freestanding induction cookers belong to the Small Domestic Appliance or SDA group.
Before jumping in and immediately buy the best brand or the most beautiful looking induction cooker you saw online or on TV…
It is important to understand what are your options.
And I have just provided you with an idea of what type of freestanding induction cooker will best fit and according to your need.
As I have explained above.
The best Freestanding Induction Cookers for home use are the following;
Double Induction Cooker – will need bigger space but it gives you the ability to cook food at the same time with its two cooking zone
Induction Cooker with Grill Pan – if you like grilling aside from normal cooking, this type of freestanding induction cooker is a good choice because of its versatility
So there you have it folks.
Thank you for reading. If you find this article helpful, or you have some questions or suggestions, please leave a comment below.
And I will try to answer them as soon as I can to the best of my knowledge.
JOIN HOME APPLIANCE IDEAS INSIDERS CLUB!
Get exclusive access to our blog posts, and Tips and Ideas about Home Appliances.