In today's modern kitchen, more and more households are turning to Induction Cooktops because of their efficiency… energy consumption, and cooking-wise.
Most high-rise home buildings nowadays prefer to install or use induction cookers because of the inherent advantage of built-in types and portability for the freestanding induction cookers.
Although sometimes, induction cookers and radiant ceramic cooktops are confused that some think they're the same — but they are not!
They may appear similar aesthetically but function-wise the induction and radiant cookers are different.
With all that said…
Please allow me to walk you through how does induction cooker works!
What is an Induction Cooker
An Induction Cooker is also popularly known as Induction Hob or Induction Cooktop.
Before we move further, let us define what is an induction cooker firstly.
An Induction Cooker is a cooking device that employs an electromagnetic coil to produce energy (electromagnetic field). And the power produced will directly heat the induction-ready cooking pot.
To simplify, an Induction cooker will be electrically energized and shall produce power. It will heat the pan or cooking pot directly.
The transfer of heat is only between the induction coil and the induction-ready pan or cooking pot
---
How does Induction Cooker works
As mentioned in the above definition, an Induction Cooker will induce direct heat to the cooking pan or pot.
Moreover, the cooking pan/pot must be induction-ready type of cookware.
1. Working Principle of Induction Cooker
The induction cooker only heats up when an induction-ready cooking pot/pan is placed on top.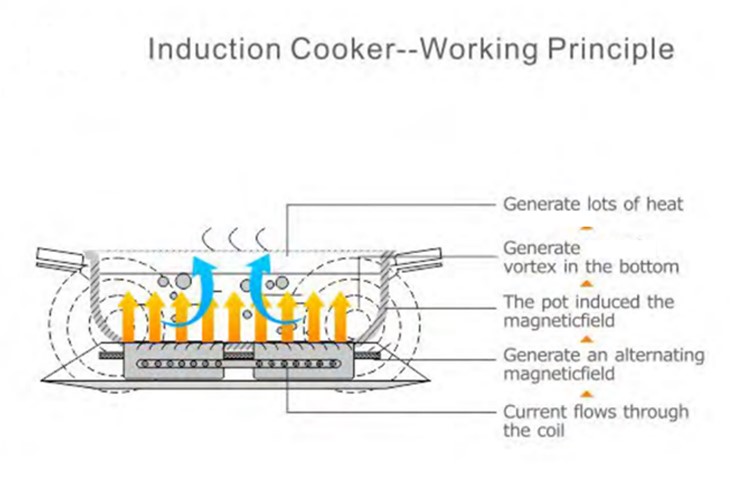 The below image will further illustrate how an induction cooker works.
You will observe that the egg that was placed on the pan was already cooked because of the heat that was induced to the induction-ready cookware.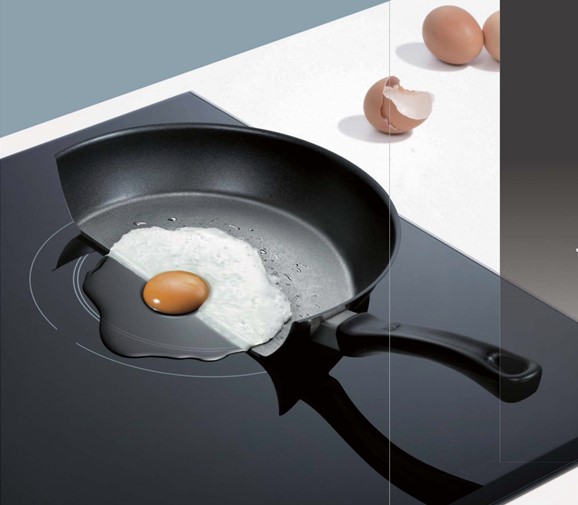 While on the other hand, the egg that was directly placed on the glass plate is still raw — because there was no heat generated due to the absence of induction-ready cookware!
---
2. Usable Cookware
All ferrous cookware is an induction-ready type of cooking utensil, and it can be used for cooking using an induction hob.
The simplest way to test if cookware is induction-ready is to test it with a magnet.
As you can see, the below cooking pot is already marked induction-ready…
To verify, use a magnet to test the cookware…
If the cookware attracts the magnet, then it is okay to be used on any induction cookers.
Tip: All cookwares that attracts magnet can be used on any kind of Induction Cookers
---
3. Unusable Cookware
All non-ferrous cookware is not induction-ready and cannot be used for cooking using an induction cooker.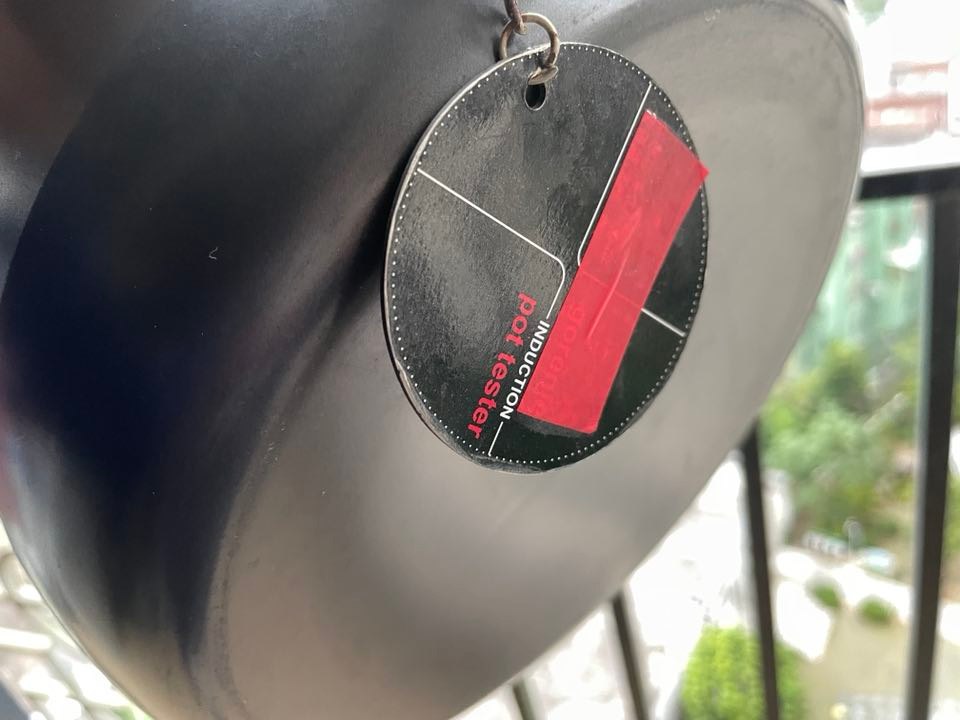 The induction cooker won't be able to induce an electromagnetic field to the cooking pot or pan just like the above sample photos.
First, the pan is a non-ferrous reason the magnet failed to get attracted.
When the pan is used to boil water, the induction cooker had no response and just sent a repeated beep signal and after 60 seconds it automatically shut off.
Note: In some design, if the induction cooker could not detect a cooking pot/pan it will display an error message that correspond to missing pot/pan.
---
4. Induction cooker's Heating Element
You may be wondering what an Induction Cooker's heating element or induction coil looks like.
The below photo shows how the Double cooking zone and Single cooking zone induction hob resemble.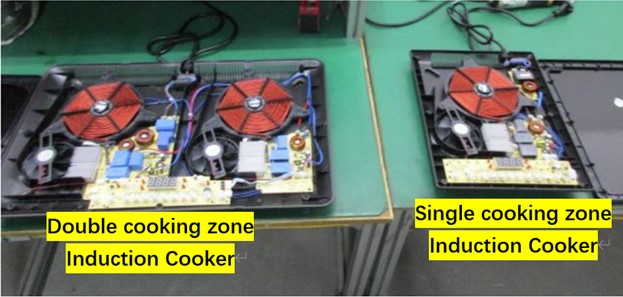 Besides, Induction coils or induction heating elements vary according to design…
What's more…
Some latest designs employ uniform heating technology that can control and enlarge the heating point. This is to ensure even heating and get away from overcooking your food.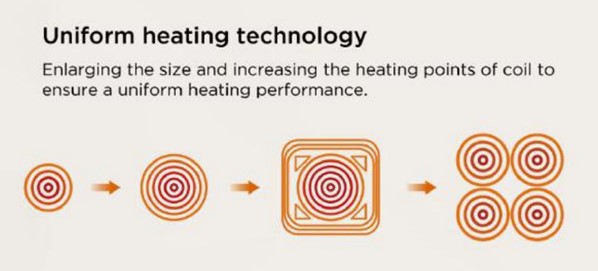 ---
Types of Induction Cooker
As I have mentioned in my previous articles there are two types of induction cooktops, namely:
1. Built-in Induction Hob
Normally consist of multiple cooking zones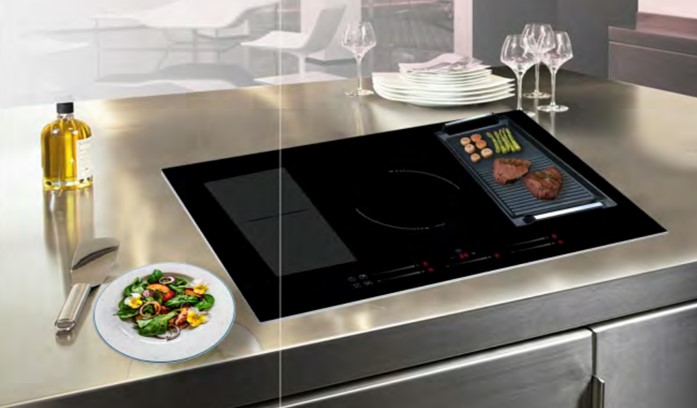 Remark: 1. Newer designs have incorporated "FLEX ZONE" (employing the latest induction cooktop technology, which allows cooking in any position and not necessarily at the center or aligned to each cooking zone).2. For older designs, when the cooking pot/pan is not aligned to the cooking zone, the induction cooker will display an error that the cooking pot/pan is missing.
---
2. Freestanding Induction Cooker
Portable induction cookers usually have a single zone, but there are also portable types that are double zone.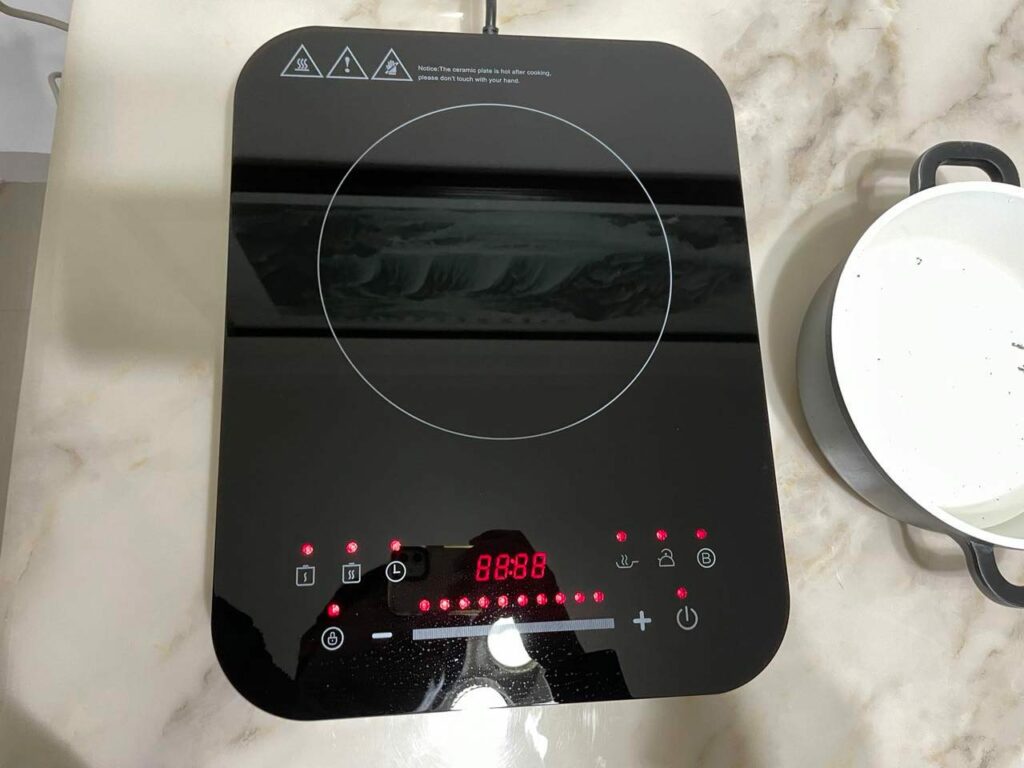 ---
Advantages of an Induction Cooker
Benefits of Induction Cooking.
Up to 70% reduction in energy or power consumption.
Faster and consistent cooking- easy to control power or temperature.
Surface away from cooking zone area will not heat up or will not become hot.

Only the cooking zone area will become minimally hot because of the heat generated between the induction coil and the cooking pot/pan.
Easy to maintain– cleaning spilled foods is much easier with the use of a scraper (some brands offer a free scraper as an accessory).
Induction cooker is Safe to use – no flames involved, no ignition, and it incorporates different kinds of safety features to make it safer for the end-users!
Induction cooker will not start if cooking pot/pan is missing or if you are using unsuitable size.

With such a feature, the induction cooker is safer compared to other cooking devices.

The below photo illustrates how the unsuitable pot size is checked on site.
It is one important test to verify that an induction cooker can detect the wrong pot size, and will display an error of missing pot preventing the unit from starting.
In this scenario, when E0 is displayed it means the pot is missing. Thus, the induction cooker must not start any operation (different designs will send different error signals, like the first example above that continuous beep sound is heard).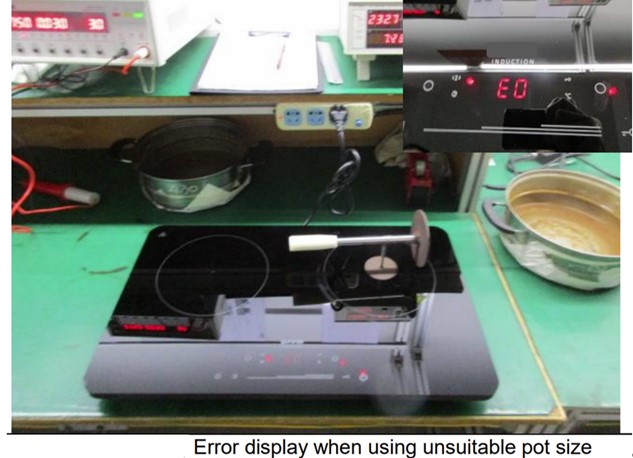 Remark: Newer designs have incorporated "Spillage Protection" that further strengthens Induction cooker's safety features. When liquid overflows during cooking and reaches the sensor, the unit will automatically shut off.
---
Disadvantages of Induction Cooker
Every good thing also has its downside.
There's no denying that Induction cookers are a great invention. However, compared with other cooking devices (e.g. Gas hobs)…
Induction cooktops are way more expensive!
Especially the built-in types with multiple cooking zones and extra features — because the bigger the Induction hob gets, the pricier it become.
And when choosing a cooktop, somehow you're decision is always impacted by your budget!
---
Final Thoughts
We have successfully identified and expounded on how the induction cooker works!
Additionally, we have also determined the advantages and disadvantages.
Given all the information above…
Are you interested in getting or choosing an induction cooker for your kitchen?
Please let me know in the comment below!
Personally, I'm keeping a single induction hob as my alternative cooker — I use it often for my hotpot cravings!
So there you have it folks!
Thank you for reading. If you find this article helpful, or you have some questions or suggestions, please leave a comment below.
And I will answer them as soon as I can to the best of my knowledge!