So, after spending some of your hard earned money just to get hold of your dreamed induction cooker, the next thing you want to make sure is how to properly maintain your induction cooktop to make it last long.
As much as you enjoy cooking — maintaining your induction cooktop in good shape could also influence that desire.
Whether it is a Built-in or a Freestanding induction cooker, proper care should be observed nevertheless!
In this blog post, I will highlight some best practices that you should take into account to keep your induction cooker in good condition.
Let's dive in…
How to Properly Maintain your Induction Cooktop
The best way on how to properly maintain your induction cooktop is by observing best cooking practices such as, cleaning the induction cooker after cooking, avoid using damaged or deformed pot/pan, don't drag pot/pan across the cooking zone, keep induction cooktop free from unwanted objects, and in the case of portable induction cooker keep it in a secured place when not in use.
1) Always Clean your Induction Cooktop after Cooking
Make it a habit to always clean your induction cooker after cooking!
Don't wait until you are going to use it again, and or you learned that one of your friends is visiting you — before cleaning your cooktop.
Especially if you have just used it for frying — wipe the ceramic glass immediately from oil splatters!
Grease or any food residue left uncleaned will be a perfect welcome treat for bugs to visit your kitchen — and I'm sure you won't like that to happen.
Worst case scenario is when bugs starts to make a home under or inside your induction cooktop!
Which can really give you nightmare if your cooker gets damaged — which obviously can be avoided by making your cooktop always clean and tidy.
Following below are some practical cleaning tips that you can consider:
Make sure to unplug or switch OFF the power source of the induction cooktop before cleaning.
Let the induction cooktop cool down first (as the cooking zone will be hot especially after cooking long).
Use a damp cloth to wipe the glass plate (in case of oil spills using a warm water to moisten the cleaning cloth will have best result since it can quickly remove oil stains).
Don't use abrasive material or abrasive cleaners to clean your induction cooker.
For hardened spills or food residue use scraper (some brands actually supply scrapers as an accessory). However, avoid using scrapers with sharp or pointed corners and if the blade is dull or chip-off! Replace the blade with good one before using!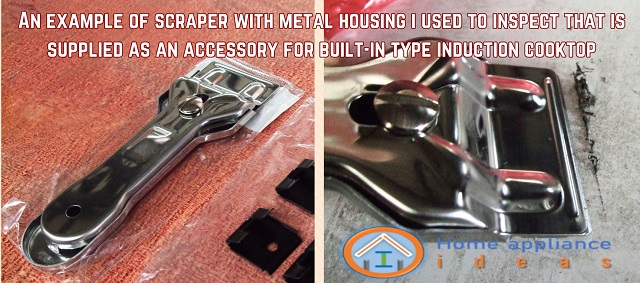 If necessary, use mild detergent or dishwashing liquids to get rid of stubborn stain marks.
Always use a clean soft cloth for cleaning (for example, I like to use microfiber cleaning cloth).
Don't immerse portable induction cooker in water and also don't try to clean it using running water.
And not to be ignored, always check the vents for dust or dirt and get rid of them. For built-in types, ensure that the inside part of the cabinet is clear from any object blocking the ventilation!
Above are very basic ways on how to keep your induction cooker neat and tidy!
And in my opinion, you won't be needing some special kind of ceramic glass cleaner if you'll just immediately wipe the glass panel when spillage happen and not wait until it dried out.
Same way, by keeping it in-check from dust or dirt when not in use.
Remember the one advantage of induction cooker? — It's EASY TO CLEAN!
2) Don't use Damaged or Deformed Pot/Pan
One mistake to avoid is using damaged pot/pan.
You might be thinking of saving for your cookware…
However, if the bottom part of the pot/pan is damaged or deformed it can create more serious problems!
Not only that it can cause unwanted scratches on the glass panel…
But, you are also exposing yourself to a possible danger as it can cause for some safety concern as I have explained in my previous article.
Since the bottom of the damaged cookware won't be flat… increase in stray magnetic fields is more likely to occur!
So, foremost you must use your induction cooktop correctly — by using correct and not damaged pot or pan.
To avoid and prevent such issues — only use pot/pan that is in good condition!
3) Don't Drag the Pot/pan across Cooking Zones
Another mistake or shall I call it "mis-use" is by dragging your pot/pan onto the cooking zone area!
Even if you heard the sales representative saying that ceramic glass are scratch resistant…
Don't let a simple act of laziness ruin your induction cooktop.
Ceramic glass are still prone to scratches especially if the bottom of the cookware you are using have some deformation – reason I have mentioned it ahead not to use damaged or deformed pot/pan.
As it can cause serious scratches by dragging it instead of lifting and placing it carefully on the marked cooking zone area.
Even with a good pot or pan, don't just push or pull the cookware — with the food loaded it's heavy and will press against the ceramic glass surface.
And if there are impurities stuck at the bottom?
There is a high possibilty that it will leave a scratch mark that you will then regret.
So, don't drag the pot or pan around the glass plate!
4) Keep the Induction Cooktop Free from Unwanted Objects
This is another area that if taken for granted could potentialy create you pain… I don't only mean mental anguish, but it will also be tough for your wallet.
Induction cooktops are not cheap so take it as one of your most precious investments.
While these kind of products are tested and should pass the impact test…
But falling cans or bottles from cupboard can break the ceramic glass!
So avoid storing heavy objects right on top of your induction cooktop.
Likewise, avoid putting things directly on glass plate for no reason!
Even your cooking utensils that are used during cooking shouldn't be left behind on top of glass panel.
It would only take for your playful kid to hold it and smash it to your beloved cooker.
So avoid putting unwanted objects directly to prevent untoward incidents from happening that could break or damage your induction cooktop.
5) Keep Portable Induction Cooker in a secured place when not in Use
If you have a freestanding induction hob as an alternative stove — unplug, clean, and make sure to store it in a secured place when not in use!
This is what I normally do after using my single induction hob for hot-pot at home.
Would be best to hide it somewhere safe and take it out only when you are going to use it again.
Single induction hob and the likes are portable enough to be kept inside a cabinet after use.
That way it would be to your own benefit as you have free up some space especially if you have a limited area in your countertop.
Final Thoughts
So, as I have explained above…
The five best practices on how to properly maintain your induction cooktop are the following:
Always clean your induction cooktop after cooking
Don't use damaged or deformed pot or pan
Don't drag the pot or pan across the cooking zone area
Keep the induction cooktop free from unwanted objects
For portable induction cooker, always keep it in a secured place when not in use
The lifespan of your induction cooktop will much depend on how you treat it.
And the way you cook is going to have a big impact — therefore, don't make it a habit to allow spillage when cooking!
So, there you have it, folks!
I hope I've made some valid points that you will consider!
If you have any questions or suggestions, or if you feel some information is lacking, please leave them in the comments below, and I will answer them as soon as I can and to the best of my knowledge. Thanks!