It is common knowledge that you should know what are the safety precautions for induction cooker if you're planning to buy one or you already have one in your kitchen.
In this article, I will help you with the basic things that you should understand in an induction cooker to ensure that your safety is not compromised!
So, without further ado, let's dive in.
What are the Safety Precautions for Induction Cooker?
Operating your induction cooker with the correct supply voltage and frequency, understanding the meaning of safety signs and other markings, utilizing the correct type of cookware, and awareness of induction cooking safety concerns are basic and excellent examples of what are the safety precautions for induction cooker.
Plug, Voltage and Frequency Rating
This is the first thing that you must make sure of — having your induction cooker with the correct type of plug, voltage, and frequency rating depending on which region you are in.
Different countries and regions use different supply voltages and frequencies as well as the type of plugs.
For example, if you are from the US, you need 120V, 60Hz, and a type A or B plug!
There are cases (mostly travelers) some will buy products from other countries because they liked them but not realizing the consequences of such a purchase.
So, this is one precaution that you must understand when buying!
Here's an example of the different plug types and which countries they are applicable:


The above example is applicable for FREESTANDING type of induction cookers, mostly consisting of one or two cooking zones (I've used it for easy reference when sourcing products for different clients).
In the case of multiple cooking zone induction cookers (normally BUILT-IN types), the power cable does not come with the plug as the wires have bigger cross-sections that must be fixed using a switch box or breaker installed in your kitchen.
Safety Tips: If you have a product that has a three-pin plug and your socket can only adopt a two-pin plug -- DO NOT attempt to break the third pin (ground) so you can use the product. Instead, find a plug adapter that is readily available at hardware stores.  
Understanding Safety Markings
Another basic knowledge you must know is understanding the meaning of safety markings!
Basically, you will find them on the carton box, instruction manual, rating label, and on the part of the product where the user is warned of possible danger if not careful.
Here are some of the most common safety markings that you will see (not limited to induction cookers):
1. UL (Underwriter Laboratories)
The UL mark is the most common safety marking for products (including induction cookers) that are marketed in the US.
Normally, printed on the product's rating label and carton box.
A product that bears the UL mark means it has been tested and passed all the mandatory safety requirements accorded by the national standards.
So, if you are in the US — look for the UL mark on the rating label.
Because it is an indication that the product has been certified and complied with all the safety requirements… that makes the product safe to use!
2. CE (Conformité Européenne)
The CE mark is the required safety marking for products marketed in the European Union.
In the case of induction cooker it belongs to the category of low-voltage appliances, thus, it will be subjected to European (EC) Low Voltage Directive.
Before a manufacturer of an induction cooker can sell his products to EU, he must first obtain Declaration of Conformity.
In this regard, a sample must be submited to accredited laboratories for testing.
The most highly recognized laboratories for appliance testing for EU compliance are VDE and TUV.
Upon satisfying all the safety requirements, the manufacturer is provided with the approval to affix the CE mark to his product — compliance to these criteria means the product can now be marketed inside Europe.
Products with CE mark is widely accepted in other countries!
However, if a local standard is enforced… the manufacturer is still required to comply with the local safety requirements.
So, for people in Europe — the one mark that makes them buy stuffs is if the product has a CE mark.
3. Safety (Precaution) Warnings
One thing that you don't want to ignore are the SAFETY INSTRUCTIONS and WARNINGS!
Either written in the instruction manual or printed on the product itself.
Here are some common example of safety warnings that are usually included in the instruction manual to get the attention of the user to be aware of.
In many designs of induction cookers, it is normally printed on the glass plate that is easily seen to warn the user.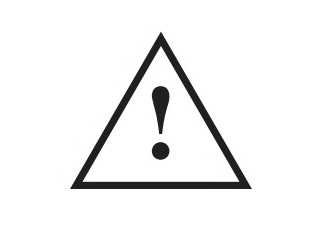 The exclamation mark inside a triangle is a common CAUTION sign to warn the user of a possible danger.
It indicates Risk of injury or can damage a property!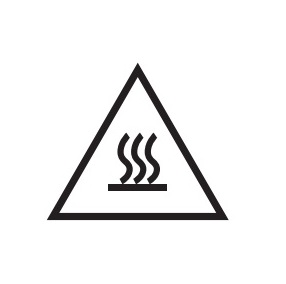 This CAUTION sign is to warn the user of a HOT SURFACE!
It indicates a hot surface and a possible risk of getting burn if you touch the hot area.
Note that there many other forms of safety markings.
Depending on the regulation of different countries that may be required to be included in the rating label and or in the SAFETY INSTRUCTION booklet!
The above are only example and the most recognized or normally utilized in an induction cooktop!
Safety Tips: When you open the user's manual of your induction cooker, you will be greeted immediately with the SAFETY PRECAUTION warning. Read them all carefully and do as instructed. And always keep your instruction manual for future reference.
Induction Ready Cookware
Another safety precaution that you must consider if you have an induction cooker is having the correct type of cookware.
You must understand that not all cookwares can be used in an induction cooker!
Check my previous article where I have explained how induction cooker works.
To prevent any danger — only use induction ready cookware!
Don't use other alternative as it may only cause inconvenience, besides, it will most likely cost you more!
Induction Cooking Safety Concerns
This precaution covers the part when you are now going to use your induction cooker.
I will highlight some safety precaution that are very important that must be taken into account.
Make sure that you have read all the SAFETY INSTRUCTIONS!
For single induction cooker, the minimum ampere rating of power cable and plug should be 10A to 15A.
For double induction cooker, the minimum ampere rating of power cable and plug should be 16A to 30A.
DO NOT let your child operate the induction cooker – activate the CHILD LOCK function to prevent them from playing with the controls!
Use the correct size of pot/pan (check the safety instruction of the allowed sizes). It would be for your best interest to use a cookware that covers the marked cooking zone.
Only use induction ready type pot/pan (avoid using other alternative method and don't use damaged pan/pot).
Always place the pan/pot at the center of the cooking zone.
It's of common sense that if your pan/pot is all metal (including the handle) it will be hot – avoid holding the handle with bare hands during cooking. In the same manner, you have also prevented yourself from direct exposure or shock (as many are concerned that EMF is transferred through the pan/pot).
Another concern that many people are afraid about an induction cooker is the EMF radiation, but according to some study exposure could be reduced if you use the induction hob correctly and keep a 5cm-10cm distance from the stove while cooking.
Final Thoughts
Knowing what are the safety precautions for induction cooker is vital to your cooking enjoyment and overall health!
And as I have explained above the basic safety precautions that you must be aware are the following:
Using the correct Plug, Voltage and Frequency
Understanding Safety Markings
Using Induction Ready Cookware
Awareness of Induction Cooking Safety Concerns
So, there you have it, folks!
I hope I have made some valid points that you can consider to ensure not only your own safety but the rest of your household.
If you have any questions or suggestions, or if you feel some information is lacking, please leave them in the comments below, and I will answer them as soon as I can and to the best of my knowledge. Thanks!