Several reasons can be attributed to why are induction hobs so expensive!
And this is especially true for some induction cooktops.
There are three main areas (I see) that largely influence the cost of induction hobs.
So, in today's blog, I will walk you through the three main reasons why are some induction cooktops so expensive!
Let's get started…
Why are "some" Induction Hobs so Expensive?
There are three main reasons why some induction hobs are so much expensive. They are the following — Brand Identity, Design, and Components used. From conceptualization to the finality of the design, these are key factors that will contribute largely to how much an induction cooktop will cost.
---
Brand Identity
You pay for the Brand name!
That's the sad truth (and reality) if you want to own a branded induction cooktop.
And depending which brand you'll take, it could even further the price to some extent — especially if the brand is very famous.
While there have been many options nowadays (including "no brand identity") induction hobs — the fact remains that if you want to have a branded product, it gets expensive because you are bound to pay for that brand's identity!
The takeaway here, however, is that established Brands would only use top-tier components to ensure highest Quality and Reliability that will satisfy their loyal customers.
---
Induction Hob's Design
So, the cost of the induction hob will also be affected depending on its design!
There are basic designs…
And there are also more advanced designs (using newer technology) for premium models of induction cookers.
Let's break down why the induction hob's design can influence the cost.
Number of Cooking Zone

In simple terms, the more the cooking zone is integrated into the design of an induction hob, the higher the cost will be.

Additional Safety Features

An added safety feature will cost extra in any design.
As an example, older designs don't have a "spillage" safety feature, but it is now being incorporated in newer models, especially for the multiple cooking zone induction cooktops.

Power Rating

The higher the power of the induction hob's design, the more expensive it will become.
Example, a 3000W induction cooktop will be more expensive than a 1500W induction hob.

Push Switch vs Touch Control

Push switch was common in older (freestanding) single and double induction hob designs.
Newer models already utilize new technology using touch controls (which is more expensive).

Standard vs Bridge/Free zone Technology

Standard induction hobs use fixed induction coils — meaning, for the induction cooker to work, you must put the suitable cookware at the center of the cooking zone.
The Flexible/Bridge induction cooktop design incorporates this induction cooktop technology that allows the cooker to work even by placing the cookware in any position (making this design more expensive).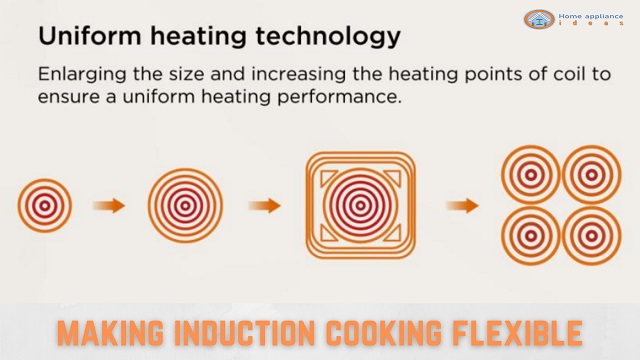 The above image is an example that illustrates a flexible zone induction hob.
---
Components Used
Another major contributing factor that influences the cost of induction hobs is the materials.
I have touched on the basic and premium designs — which leads us now to discuss the three major components that have the most impact on the price of induction hobs.
PCB Modules/Controller

The PCB module will house all the controls and sensors that integrate safety and functionality.
Complex design PCBs will be more expensive as they will have more features than the basic design.
Premium designs will utilize a much more reliable IGBT (switching) module, especially for multiple cooking zone induction hobs (that could influence the cost).

Induction Coil

Copper coils are the common material for induction heating elements.
The power rating of the coil and the coil size will influence the cost (the bigger the coil size, the more expensive it will become).
Flexible/Bridge types of induction coils will be more expensive than the standard induction coils.
Established producers of induction coils, known for their top quality (brand identity), will be more expensive than alternative induction heating elements.

Ceramic Glass

Ceramic glass is the only type of glass used so far for induction hobs because of its high thermal characteristics.
The more cooking zone the induction hob design has, the bigger the ceramic glass will be, therefore, it will be more expensive.
Established producers of ceramic glass, known for their top quality (brand identity), will be more expensive than alternative ceramic glass.
---
Final Thoughts
So, there you go… I have identified and explained the three main reasons why some induction hobs are so much expensive.
Again to summarize they are the following:
Brand Identity – "brand name" will always influence the price of the induction hobs.
Induction Hob's Design – premium design with a lot of features will be much more expensive than induction cooktops with a basic design.
Components used – established producers of PCB (IGBT) modules, Induction coils, and Ceramic glass will have a huge impact on the final cost of induction cooktops.
Premium models will ultimately be pricier than the basic ones because of how the induction cooker is designed to work.
Normally, you will need to pay more to get the best!
While you may have the most expensive induction hob ever made — it may not still be a guarantee on how long the induction cooker will last.
But as I have implied — expensive induction hob models usually are made up of top-quality materials. Moreso, if it's BRANDED!
So, there you have it, folks!
I hope that I have shared some useful information here!
If you have any questions or suggestions, or if you feel some information is lacking…
please leave them in the comments below, and I will answer them as soon as I can and to the best of my knowledge.
Thanks!