As far as this website is concerned, our main goal is to help and provide valuable information about home appliances. That being the case, it is only proper that we discuss what is Home Appliances and their uses.
In this article, I will be walking you through to identify the three aspects that comprise home appliances. I hope that this blog post could give us more clarity and added understanding about appliances.
So, join me as we tackle the many different forms of home appliances.
What is Home Appliances
A home appliance is a machine or device highly utilized in residential and lodging properties.
They are also synonymous with Household appliances, Electric appliances, and Domestic appliances. And in most instances, Home appliances have always been related to kitchen appliances.
Even so, if we examine further, we can surely find other appliances inside our homes such as electronic appliances.
However, electronic appliances are distinctively segmented being part of consumer electronics, a division of appliances that are mainly tagged as electronic devices.
Therefore, it would be safe to say that a home appliance does not only represent electric household and kitchen appliances but should also include consumer electronics. Since most kitchen or household appliances are now utilizing microchips and this is especially true for smart kitchen appliances.
Consumer electronics had always been part of the broader "electronics appliance" designation. That distinctively identifies them from other household appliances and has been widely accepted.
---
Three Main Category of Home Appliances
As we have established above what is home appliances, this section will try to identify the main three categories.
1. Major Domestic Appliance (MDA)
I have discussed in detail what are the appliances that are under MDA in my previous article about What is Major Domestic Appliances.
And for the benefit of our readers, I will again summarize what are these appliances.
To give you an idea, most appliances that belong to the MDA group are big appliances, as you can see in the illustration below.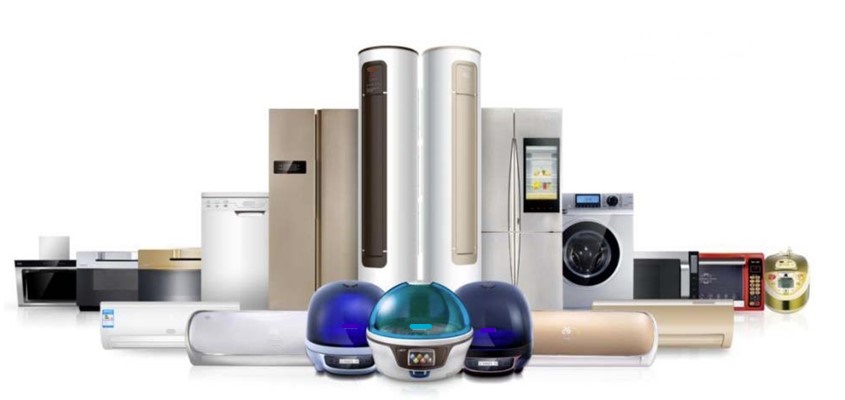 Normally, there are two types of design for Major Domestic Appliances.
Freestanding

Designed with complete aesthetic properties and can be displayed or installed as-is
These are types of appliances that do not need to be integrated into a cabinet
Built-in

Designed without a complete aesthetic outlook
These types of appliances are designed to be integrated into a cabinet or an enclosure
Besides, Major Domestic Appliance could be further classified into sub-categories, they can be as follows:
Cooking Appliances – these are appliances that are used for cooking, such as:

Oven
Microwave
Ceramic Hob
Range Cooker
Cooling Appliances – use to preserve raw and cooked foods as well as drinks and dairy products. An example of a cooling product is as follows:

Refrigerator
Freezer
Minibar
Wine Cooler
Dishwashers – this appliance is designed to wash used eating dishes and other used dishwasher-compliant kitchen utensils.
Clothes Washer and Dryer – used to wash and dry dirty clothes and other textile or garments. This type of appliance can have the following functions:

Combination Washer and Dryer (automatic washing and drying function)
Washing machine plus Dryer (after washing you manually put the clothes on a separate tub to start the drying function)
Washing machine (washer only and without dryer function)
Tumble Dryer (this is only for clothes drying and no washing function)
Heating Appliances – these are mostly known or considered water heaters or boilers. It can be operated as follows:

Gas water heater
Electric water heater
Air-conditioning Unit – aircon is considered a major domestic appliance used to cool down a certain enclosed area. Other designs can be inverted to warm a place during the winter season.
Disinfection Cabinet – used to disinfect eating utensils, this appliance is popularly considered in every Chinese household.
Note: There could be other Major Domestic Appliance that was not mentioned above, but overall, these are the most common big appliances that we can usually observe in most households. Again, please also check my article about What is Major Domestic Appliances.
---
2. Small Domestic Appliance (SDA)
Like MDA, I have also recently covered Small Domestic Appliance or SDA in my earlier blog post about What is Small Domestic Appliances.
Just the same, for the benefit of our visitors and readers, I will also sum up in here the appliances under the SDA group.
The below illustration is just an example of the most common SDA products.
However, I will try to add some items that are considered and that are normally purchased by many clients.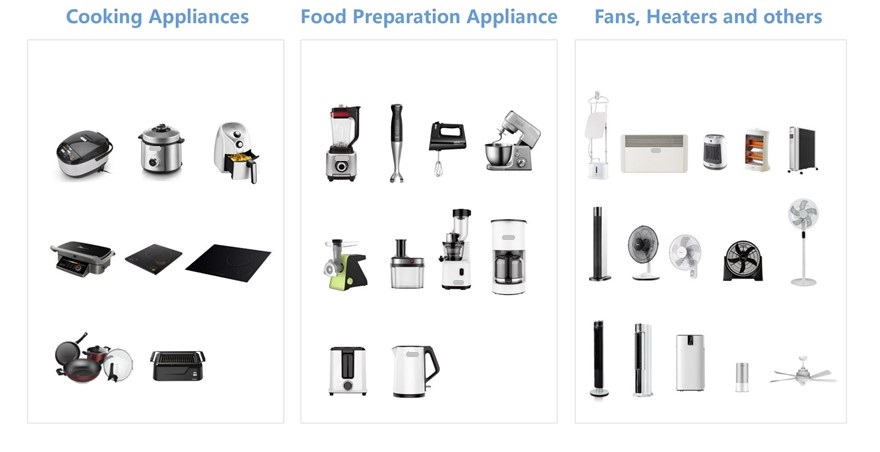 Small Domestic Appliances are mostly Freestanding and Portable types.
However, there's always an exception because freestanding microwaves and compact ovens can also be integrated into a cabinet to save space.
SDA can be classified as well into sub-groups, such as:
Cooking Appliances – small types of kitchen appliances used for cooking, below are some commonly utilized small cooking appliances.

Rice cooker
Pressure cooker
Microwave oven (smaller capacity)
Compact oven (mini-oven)
Air Fryer
Induction cooker (portable type, single or double zone)
Slow cooker
Multi-cooker
Table Grill
Food Steamer
Food Preparation Appliances – a type of small kitchen appliances that are mainly utilized in the processing and preparation of food, below are the most commonly owned.

Juicer
Blender (table blender, hand blender)
Food processor
Meat grinder
Mixer (stand mixer, hand mixer)
Food chopper
Breadmaker
Bread toaster
Sandwich maker
Salad maker
Coffee maker (espresso, capsule)
Coffee grinder
Electric kettle
Food dehydrator
Floorcare Appliances – this is a type of small household appliance that is intended for cleaning, they are the following:

Standard vacuum cleaner
Robot vacuum cleaner
Car vacuum cleaner
Personal care and Beauty Appliances – these are considered types of household appliances under the SDA group used for personal care. These types of appliances may include the following:

Hair dryer
Hair straightener
Hair styler
Power shaver

Powered toothbrush
Personal or bathroom scale
Other Small Appliances

Electric fan – used as a cooler or to cool down a certain area
Electric heater – a portable type of heater utilized during the winter season
Air Purifier – used to kill bacteria, allergens, viruses, etc. to have a clean and fresh breathable air inside your home
Dehumidifier – used to release moisture into the atmosphere to prevent air dryness, especially beneficial during the winter season
Portable Icemaker – used to make ice cubes, will come in handy at parties and occasions where ice cubes are constantly needed for drinks and cocktails
Vacuum sealer – used to seal raw and cooked food for future consumption
Flat iron (steam, dry) – used to straighten crumples in a newly washed clothes
Note: There could be other Small Domestic Appliance that was not mentioned above, but overall, these are the most common small appliances that we can usually observe in most households. Again, please also check my article about What is Small Domestic Appliances.
---
3. Consumer Electronics
Now let's move to the third main category which comprises home appliances.
I haven't touched on this subject yet as I am focused firstly on household (kitchen) appliances.
From personal experience, my first job was in consumer electronics!
I worked in Quality Control Department from 1990 to 2001 and was trained to inspect the following products.
Color TV (CRT type)
Black and White TV (CRT type)
Betamax
Camcorder
VHS
Stereo system (micro and midi types)
Walkman
Compact disc player
While in 2003 to 2009, I also worked in consumer electronics (this was my third company) and in Quality Control. The company's main products are as follows:
Boombox radio
Compact disc player
MP3
iPod docking station
DVD player
Car stereo
Clock radio
Micro-system
Digital picture frame
DTV
As you observe above, consumer electronics covers a wide variety of products.
Consumer electronics also known as home electronics embodies a broad range of appliances and devices (either analog or digital). Covering entertainment, communication, imaging, game consoles, and many more.
For illustration purposes, I will be showing examples of the most common electronic appliances that are usually seen in most households and their uses.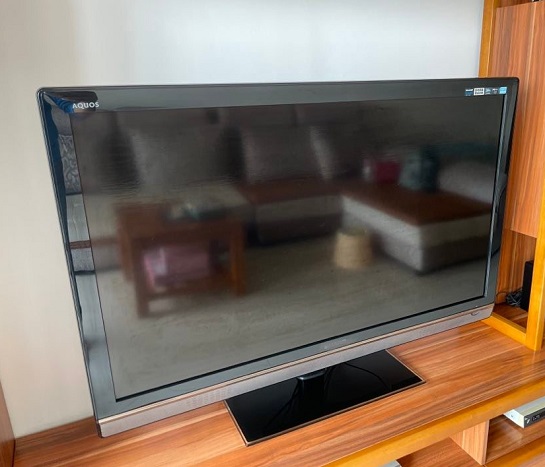 Television
Television is one major electronic appliance that is always present in every household.
Of course, this appliance is used to watch your favorite TV programs or movies.
From CRT type to Plasma, LCD, and or LED… from analog to digital and Smart TV, the evolution of television has been on constant display.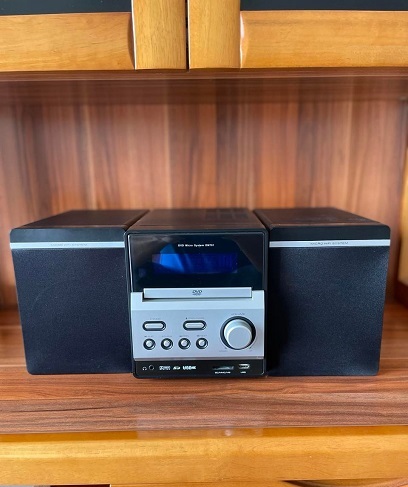 Audio Micro System
The audio micro-system is another major electronic appliance that has always been present in most households before digitalization.
Regardless if it has a CD or DVD player integrated, this type of electronic appliance is still seen in many households.
This appliance is used to listen to your favorite music and also watch movies either on CD or DVD recording.
Although the emergence of the digital age and free streaming music has placed audio appliances into a possible extinction.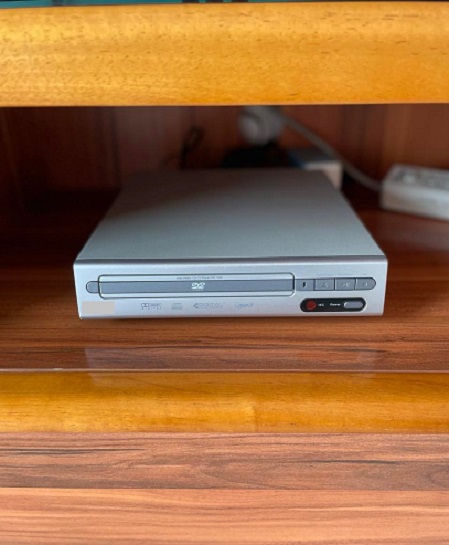 DVD Player
Once upon a time before NETFLIX, Hulu, Youtube, and other video-on-demand platforms were invented, the DVD player has been our best option for watching our favorite movies there was.
However, like many other electronic appliances, DVD players are slowly on the brink of extinction.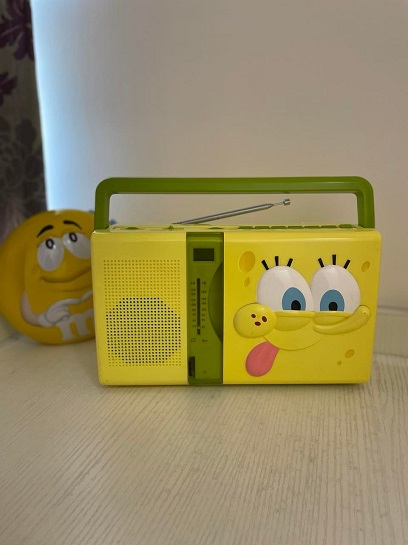 Portable CD Radio
Who doesn't listen to the radio?
Unfortunately, with digitalization and the emergence of online streaming, analog radios have become or going into the process of extinction as well.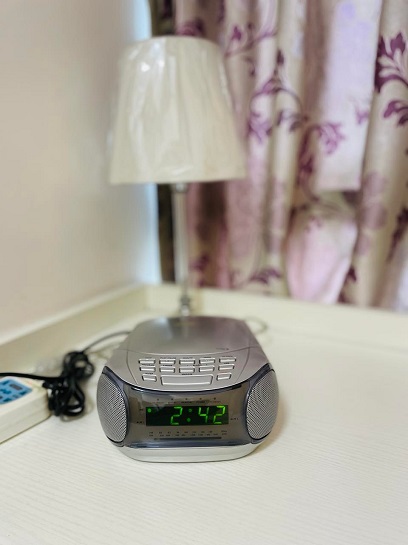 Clock CD Radio
A clock CD radio is a multi-function device.
It can be used to set your alarm clock, play CD as well as listen to your favorite radio station.
But like any other electronic device, it may be gone sooner than later. With mobile phones or smartphones becoming the go-to alarm clock nowadays.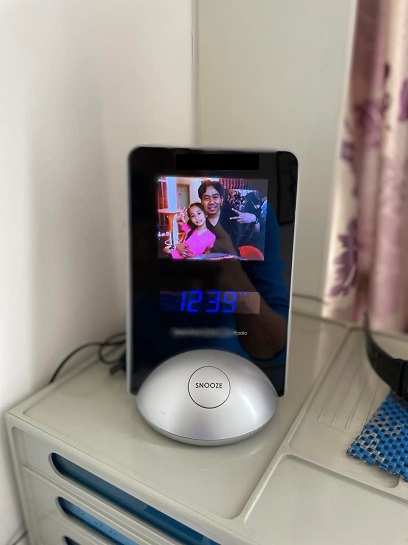 Digital Frame
A digital frame is used to display your favorite family pictures.
Depending on the design, images can be recorded on an SD card or USB, then they can be played on the digital frame, just as shown on the sample image.
Digital frames can be multi-functional. Like the sample shown here, it has an alarm clock and radio functions.
But like any other electronic device, the digital frame may soon be extinct.
As I have earlier pointed out, these are just examples of home electronics appliances or devices that are commonly seen in many households.
Although, most of them are no longer in demand or have been extinct. Because of digitalization, and the emergence of smart technology in the 21st century which mostly are now cloud-based.
I can say that I was lucky to have experienced these devices and am still enjoying some of them even in this age of digital and smart technology.
Remark: These days, computers and information technology devices are considered part of consumer electronics with all this digitalization. Converging smart technology and forming smart appliances, smart homes, smart cities, and so on.
---
Final Thoughts
We have identified and established the three main categories comprising Home Appliances.
In summary, they are the following:
Major Domestic Appliances (MDA) – comprising big appliances that are mostly integrated or built-in.
Small Domestic Appliances (SDA) – consist mainly of portable and freestanding types of appliances.
Consumer Electronics – also known as Home Electronics such as television, radio, and the like.
We have also defined the uses of the most common home appliances that I know.
So there you have it folks!
Thank you for reading and I hope you find this article helpful.
If you have some questions or suggestions, please leave a comment below.
And I will try to answer them as soon as I can to the best of my knowledge!